Microneedling provides a quick, painless, and effective way to improve the texture, tone, and overall appearance of your skin.
If you're looking for a way to improve your wrinkles and fine lines without downtime, micro-needling is a quick and virtually painless procedure. It is a minimally invasive treatment that improves the appearance of wrinkles, reduces signs of aging, and rejuvenates your skin. It can also enhance the appearance of acne scars and melasma.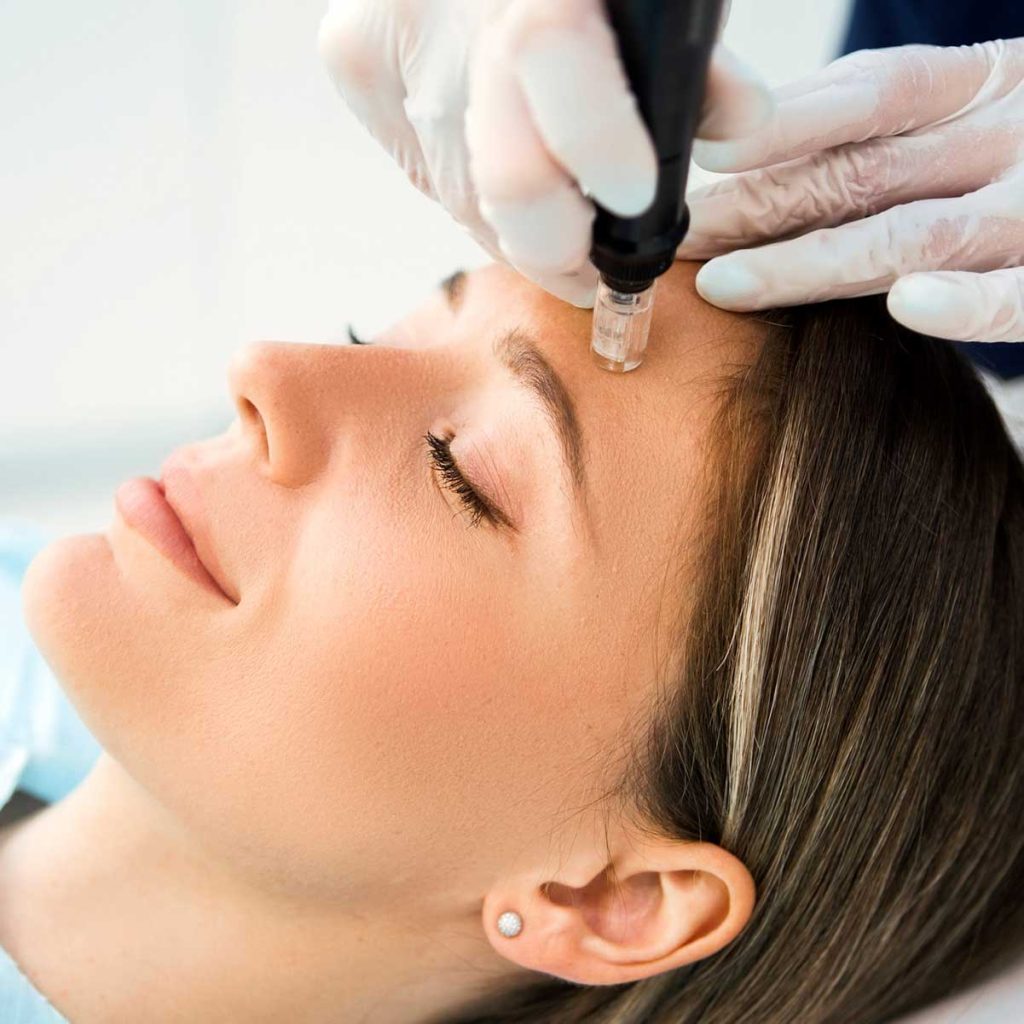 What Is Microneedling?
Also referred to as dermarolling, microneedling is a procedure that uses tiny needles to pierce the skin allowing new collagen to grow. It uses your skin's natural healing ability to reduce the look of scars, wrinkles, and fine lines. It is an easy, minimally invasive treatment. Microneedling is perfect if you want to reduce the look of fine lines or if you're treating scarring from acne.
Microneedling is used to improve the following skin conditions:
Wrinkles
Fine lines
Rough skin texture
Crow's feet
Surgical scars
Laugh lines
Acne scars
Large pores
Stretch marks
Chicken pox scars
Sun damage
Aging skin
Some FAQs about microneedling include:
How does it work? A device with fine needles creates tiny punctures in the top layer of the skin, triggering the body to produce new collagen and elastin.
Does it hurt? If you have sensitive skin, a numbing cream can be applied to minimize discomfort during the treatment.
How many treatments will I need? The amount of treatments required depends on the severity of your skin condition. Most people see noticeable results after 1-4 treatments.
What results can I expect? Your skin will feel and look smoother and more radiant in a week. The sizes of your pores will reduce, and any acne scars or stretch marks will be reduced.
How often can I repeat the treatment? It is safe to repeat the treatment every 4-6 weeks.
What can I expect after the treatment? There will be some redness and mild swelling for 2-4 days. There may be slight bruising or tiny blood spots that will disappear with 2 days. Do not use makeup, a chemical peel, or spend time in the sun for several days following the procedure. This will ensure your skin heals completely.
Will it work for my skin? Microneedling works for all skin types and colors. This is true even if you were told that your skin type couldn't be treated with a laser or other device. You may still be a great candidate for this treatment.
St. Louis Dermatology & Cosmetic Surgery
Our Dermatologist can help you explore options to rejuvenate or refine your appearance to help you look and feel your best. We can help you improve your complexion, confidence and achieve younger and healthier-looking skin!
We deliver remarkable patient experiences through quality, compassion, and innovation. We are a team who cares deeply about our neighbors & are a positive resource to the community.