Skin Cancer & Skin Cancer Treatment
Our Board-Certified Dermatologists are experts in the diagnosis and treatment of skin cancer.
For complex or difficult to treat skin cancers Mohs Surgery provides the highest cure rates and fastest recovery. Mohs Surgery has greater than a 99% cure rate for most skin cancers.
What is skin cancer?
Skin cancer is the most common cancer in humans. Over 5.4 million skin cancers were treated last year. 1 out of every 5 Americans will be diagnosed with skin cancer by the age of 70.
Skin cancer is caused by the sun. Ultraviolet (UV) radiation causes DNA damage in the cells of your skin. The skin cells over time start to grow abnormally. Skin cancer is preventable with sun protective behaviors and sunscreen.
There are many different types of skin cancer. The three most common are basal cell carcinoma, squamous cell carcinoma, and melanoma. The skin cancer most people have heard about is melanoma, because it is the most deadly skin cancer. But it is not the most common skin cancer. By far, the most common skin cancers are basal cell carcinoma and squamous cell carcinoma.
Did you know?
If you are diagnosed with a skin cancer, your risk of developing another skin cancer in 5 years is 50%.
Daily sunscreen (SPF >15) use can decrease your risk of developing melanoma by 50%.
Greater than 80% of non-melanoma skin cancers (basal cell carcinomas and squamous cell carcinomas) occur on the head and neck. This is because your head and neck are constantly exposed to the sun. It is important to protect yourself with sunscreen and a hat with a broad brim.
Skin cancer risk factors:
Sunburns
Skin type (fair / blood hair, blue eyes)
Cumulative sun exposure (UVA & UVB rays)
Genetics (family history of skin cancer)
Atypical moles
How to Prevent Skin Cancer?
Sun protective behaviors include the following:
Daily use of broad-spectrum sunscreen (UVA+UVB) with SPF of 30 or greater. On cloudy days 80% of UV radiation is hitting you.
Sun protective clothing: UV sunglasses and wide-brimmed hats
Seek shade or create your own – go for the shade under a tree, umbrella, or cabana
Do NOT use tanning beds or sunlamps. The FDA labeled these carcinogens, meaning cancer causing devices.
Monthly self-skin examinations

Make sure you look everywhere, including your back, the back of your legs, your scalp, the bottoms of your feet and in-between your toes.
Use a hand mirror and full-length mirror to examine your back and the back of your legs
Ask your hair dresser or a friend to look at your scalp.
Take photos with your smartphone this provides a permanent medical record you can later use as a reference to see if a mole has changed

Annual skin exams by a board-certified dermatologist
How to take high-quality photos for your Skin Doctor:
Make sure you are in a well-lit room with lots of light. Natural light is the best.
Take your time and make sure the photos are in-focus. When you zoom in, the photos should still be clear and not blurry. If the photo is blurry when you zoom in, then camera did not focus on the correct area.
First, take photos of an entire area. For example: Left upper back, left lower back, right upper back, right lower back, left upper arm, left lower arm etc.
Second, take a closeup photo of the concerning spot. We recommend closeup photos being taken with your camera 1 foot away from the lesion. A common mistake is to have the camera too close to the spot of concern.
After you take these photos. Look at them and zoom in to make sure the photos are not blurry.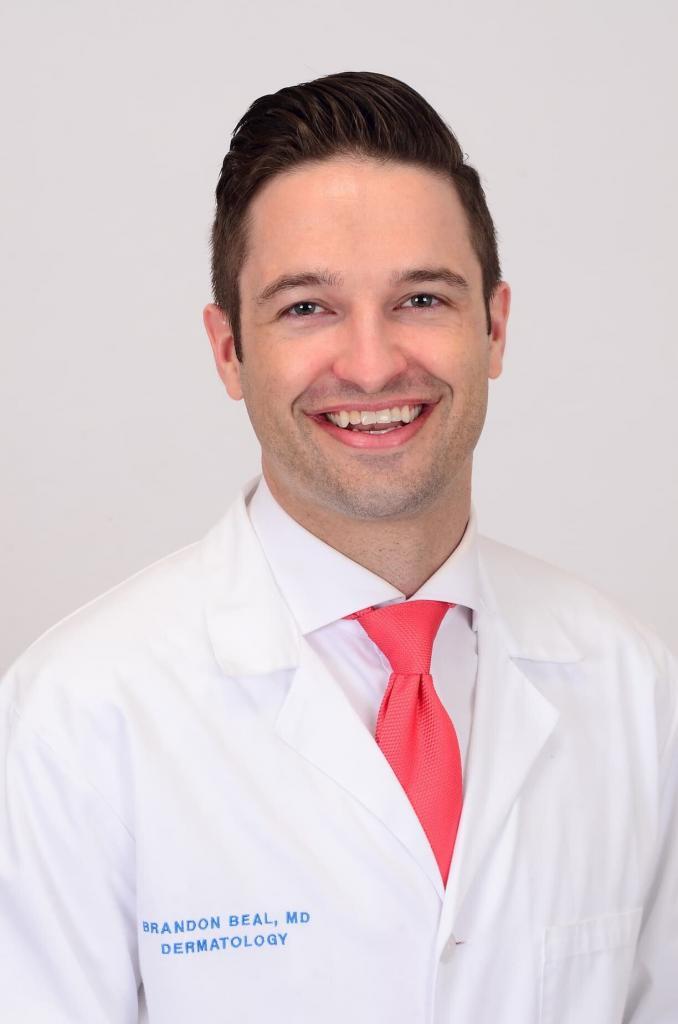 Brandon T. Beal, MD is an expert in the diagnosis and treatment of skin cancer. He is a Double Board-Certified Mohs Surgeon and Dermatologist, as well as a Fellowship trained Mohs Micrographic Surgeon, dermatologic oncologist (cancer doctor of the skin), and plastic facial reconstructive surgeon.
Dr. Beal completed his dermatology residency at the Cleveland Clinic Dermatology & Plastic Surgery Institute and his fellowship in Mohs Micrographic Surgery, dermatologic oncology, and facial plastic and reconstructive surgery at Zitelli & Brodland, PC. Dr. Beal trained at the Cleveland Clinic's Melanoma program, a multidisciplinary team of dermatopathologists, pathologists, dermatologists, and surgical, medical, and radiation oncologists.
Dr. Beal provides each patient comprehensive counseling on the diagnosis and treatment of skin cancer, a thorough skin examination from head to toe, and an individualized treatment plan based on evidenced-based medicine. Dr. Beal is an expert in Mohs Micrographic Surgery (Mohs Surgery) which is the treatment that provides the highest cure rates, greater than 99% for most skin cancers. He follows the National Comprehensive Cancer Network Guidelines as well as the American Joint Committee on Cancer staging guidelines.
Mohs Surgery & Mohs Procedure St. Louis
Mohs Micrographic Surgery is the treatment that offers the highest surgical cure rate amongst all treatments for skin cancer. Mohs surgery is a technique that preserves your normal skin, focusing on just removing the skin cancer, and thereby minimizing scaring and maximizing your cosmetic outcome. Mohs Micrographic surgery is the most advanced treatment for skin cancer.
Mohs Micrographic Surgery is the only surgical technique that examines 100% of the margin (edges) of the specimen (skin cancer) that is removed. Meaning, 100% of the side and bottom edges of the specimen are examined microscopically to ensure there are no skin cancer cells at the edges. This provides patients with the highest cure rates, smallest scars, and best cosmetic outcomes for their skin cancer.