Blood Vessel Treatment | Vein Treatments (Sclerotherapy)
Our board-certified experts in Dermatology & Cosmetic Surgery can help you get rid of unwanted blood vessels.
How to get rid of blood vessels on your nose?
Enlarged blood vessels on the side of the nose or nasal ala are very common and typically develop in our 30s and 40s and become more prominent with age. There are several different treatment options available including laser treatment, electrosurgery, and sclerotherapy. Typically for enlarged nasal vessels electrosurgery works well.
What can you expect?
We will perform a thorough examination of your nose and blood vessels to determine the best treatment. All of our treatment are individualized for each patient. Numbing is achieved through ice, a topical numbing cream, or an injection depending on the blood vessel size and depth. Then the blood vessel is treated. After treatment the blood vessels can become more prominent for 48-72 hours, and then gradually the appear of the blood vessels is reduced over the course of the next 7-10 days. Typically it takes 1-2 treatments to see a significant improvement, with larger blood vessels taking between 2-4 treatments.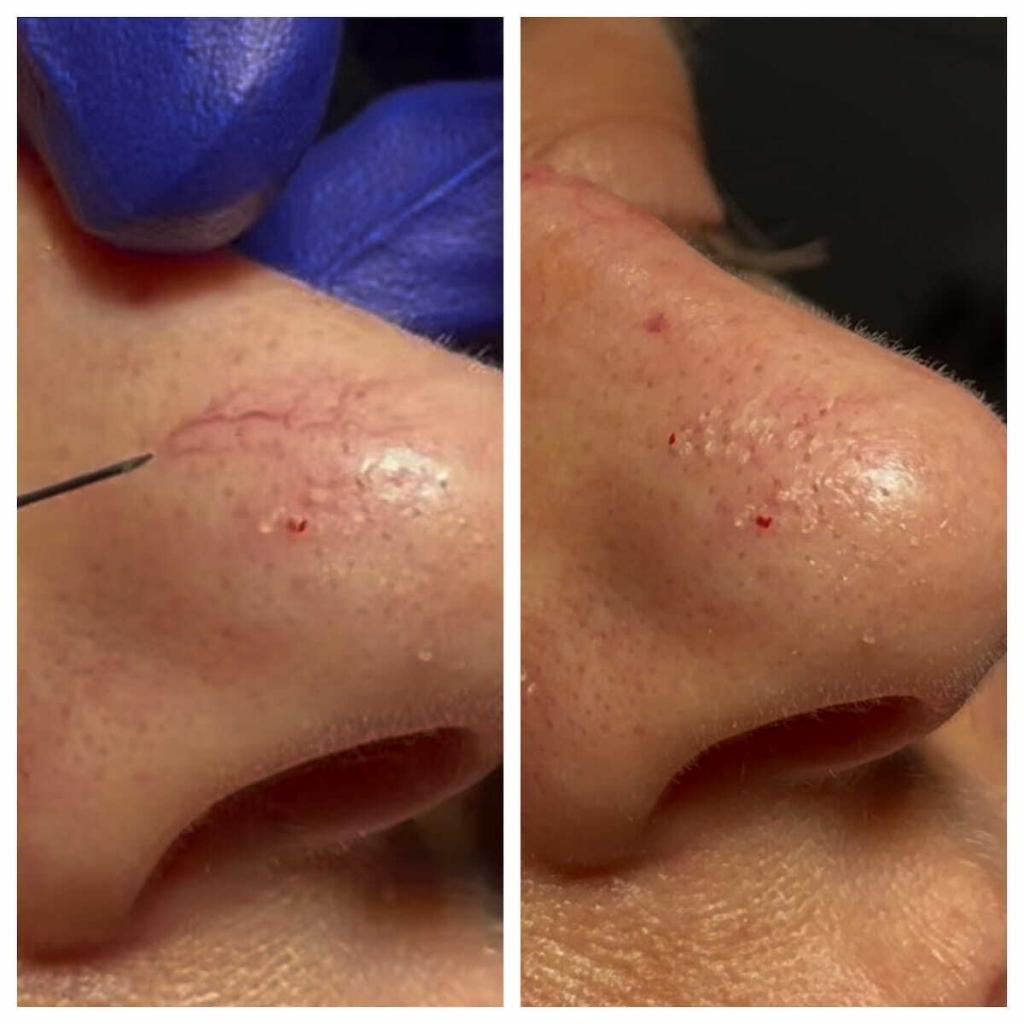 ---
What is sclerotherapy? (Varicose Vein & Spider Vein Treatment)
Varicose and spider veins are common problems that can be associated with leg swelling, a heavy feeling in the legs, and discomfort. In addition to being painful, these veins may impact how you feel about your appearance. Some people may wear clothing that covers their legs or avoid certain activities (like going to the beach) because they feel self-conscious.
Sclerotherapy is an effective treatment that helps reduce the appearance of, or even completely eliminate, spider and varicose veins.
Sclerotherapy is when a solution is injected into varicose or spider veins. This solution causes the problematic veins to close and fades the appearance of spider/varicose veins. In 60-80% of people, their veins may disappear completely.
What can you expect?
Before any procedure, you will have a consultation with our expert cosmetic dermatologists. The physician will listen to you, perform a thorough evaluation, and provide you an individualized treatment plan to address your specific needs and concerns.
During the procedure, the doctor will inject a solution into your veins using a fine needle. The number of injections you will receive depends on the size and number of areas to be treated.
After the procedure, you will need to wear compression stockings and avoid strenuous activity for approximately 2 weeks. However, regular activity such as walking is encouraged and will help with your healing.
After about 3-6 weeks, you will return for a follow-up appointment to assess how you are healing and whether additional sclerotherapy treatments are needed.
Is sclerotherapy safe?
All procedures carry some risk. However, complications from sclerotherapy are uncommon when performed by board-certified cosmetic dermatologists. The most common side effects are swelling, warmth, or discomfort at the injection site.
Sclerotherapy is not safe for women who are pregnant or breast feeding. Patients who have had blood clots may be a candidate for sclerotherapy but will require a careful medical evaluation to ensure the treatment is safe for you.
Choose St. Louis Dermatology & Cosmetic Surgery
Our Cosmetic Dermatologists can help you explore options to rejuvenate or refine your appearance to help you look and feel your best. We can help you improve your complexion, confidence, and achieve younger and healthier looking skin!
We deliver remarkable patient experiences through quality, compassion, & innovation. We are a team who cares deeply about our neighbors and are a positive resource to the community.