Non-Surgical Eyelid Lift – Tear Trough Filler (Non-Surgical Blepharoplasty)
Our Board Certified experts in Dermatology & Cosmetic Surgery provide safe, simple, instant solutions to improve under eye contour for a brighter and more refreshed appearance.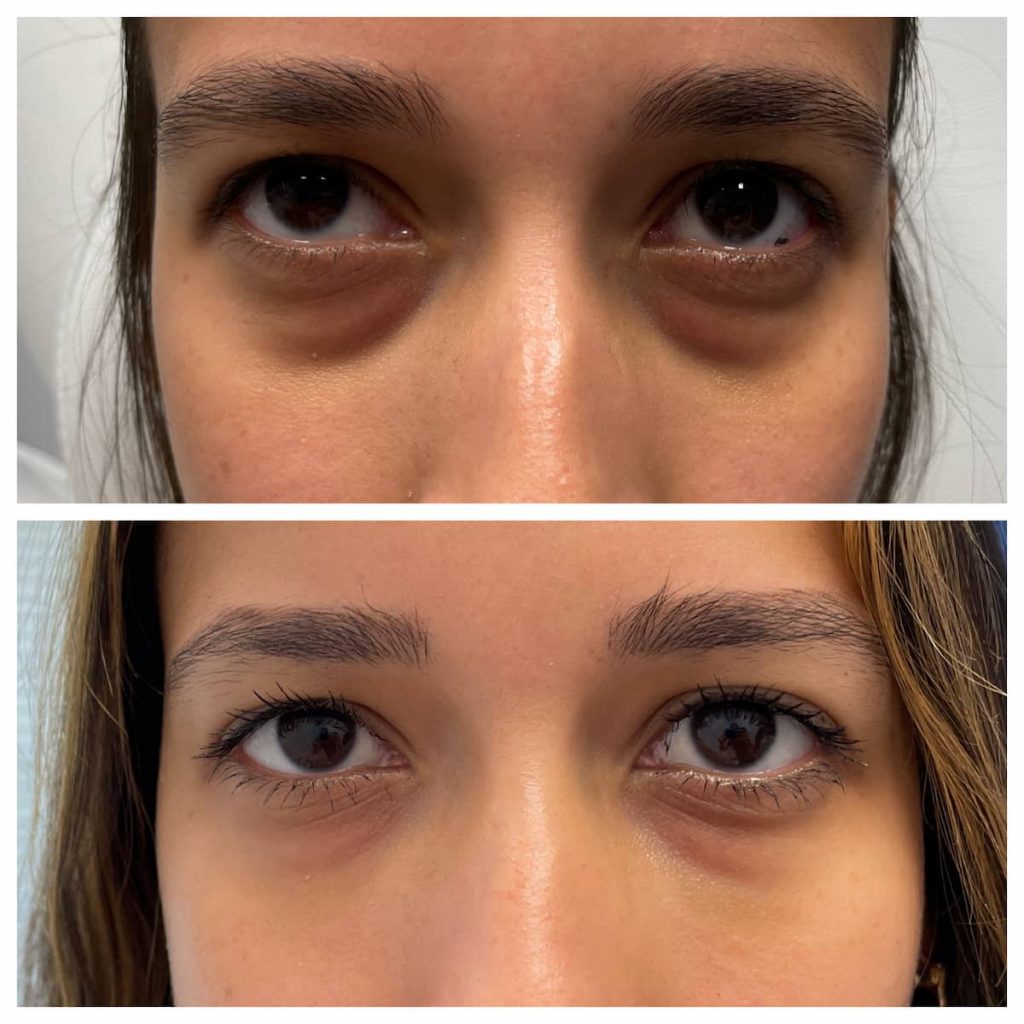 What Is a Non-Surgical Blepharoplasty (Tear Trough Filler)?
Our St. Louis non-surgical blepharoplasty (eyelid lift) is performed to reduce the appearance of dark circles, hallows, and wrinkles under your eyes, creating a more youthful and refreshed appearance. Injectable fillers are used to achieve a refreshed and rejuvenated appearance for your eyes.
What Are the Benefits of A Non-Surgical Eyelift?
Since this is a non-surgical procedure, there will be no incisions, stitches, or scars. Recovery is quicker than surgical blepharoplasty, and results are immediate.
Your non-surgical eyelid lift is performed in our office. We will apply a topical numbing cream to your skin for 20 minutes. Then filler is meticulously placed to address your individual concerns. Results are immediate and last approximately 2 years.
Am I a Candidate for Non-Surgical Blepharoplasty (Tear Trough Filler)?
If you have any of the following, you are a candidate for a non-surgical eyelid lift:
Deep undereye hollows
Dark undereye circles
Lower eyelid wrinkles or fine lines
Recovery after Non-Surgical Blepharoplasty
After the procedure, you should take it easy for 24 hours — no exercising or vigorous activity.
Some patients will have bruising and swelling, which will resolve in 1-2 weeks.
Schedule a Consultation
Schedule a consultation with our Board-Certified Cosmetic Dermatologists and Fellowship Trained Facial Plastic and Reconstructive Surgeons. Our team works closely with each patient to help you achieve your goals.
Before any treatment, we want to understand your aesthetic concerns. Our board-certified dermatologists will explain different treatment options and, together with you, come up with an individualized treatment plan to help you accomplish your unique goals. This collaborative approach helps you feel comfortable and confident that you are getting the highest quality and compassionate care.